New ventures bring new opportunities and many new relationships.  As we approach the New Year tomorrow I want to thank all our partners and friends in the business and send well wishes for a great New Year.
As I look back at the past year, I reflect on the addition of GAW chain link fence to the Southwestern Wire Inc. product line with the acquisition of the General Wire mill in Tulsa, OK.  The GAW chain link fence product has been a staple of the industry for many years and adding this to our product line has brought many new relationships to the forefront for Southwestern Wire Inc. The team at Southwestern Wire Tulsa, brings many years of experience in manufacturing the GAW chain link fence products and I am glad to have them on my team.
A message from our principal owners, "We thank each and every one of you who have joined our team, best to you all in the New Year and God Bless!"
Why Choose Southwestern Wire Inc. for GAW Chain Link Fence?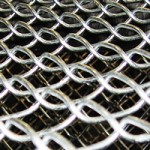 As with all of our products, Southwestern Wire takes pride in manufacturing and supplying the highest quality products in the industry and backing that up with the service of our management team, production team and sales group.  As many of you have dealt with our group over the past 20 years I hope that you have found our team to be honest and straight forward in our practices.  We look forward to the additional relationships that will come in the New Year and hope that we may service many of you in the future as we have served so many in the past.  Join the team; join the movement to products Made in the USA, with pride, the good old fashioned way.
Southwestern Wire Inc now manufactures GAW chain link fence in 1.2 oz and 2.0 oz in the Tulsa, OK location in addition to our other core products from Norman, OK and Sacramento, CA: GBW chain link fence, extruded vinyl coated chain link, MaxFused 2b chain link fence, tension bars, truss rods, tension wire and many types of industrial wire for a multitude of applications.
HAPPY NEW YEAR!
For additional information on GAW Chain Link Fence Products click here or to contact a sales team member click here.
Galvanized Before Weave–
GBW

: Get The Real Deal In Chain Link Fence

My how times change!  It was only a few years ago that GBW (Galvanized Before Weave) chain link fencing was a product without recognition and without any market feasibility in the commercial arena of the fence business.  Well, Those days are gone and with it so are the days of light coated galvanized before weave chain link fence, butter soft gbw and dark discolored gbw chain link fence. The technology in coating processes has allowed Southwestern Wire the ability to coat and weave galvanized residential, commercial and industrial grade chain link fence in coating weights up to 2.0 oz/per sq ft to meet ASTM standards A 392 Class 1 and Class 2 both in coating weights and tensile requirements. Many of the initial technologies were developed in the 80's with other more advanced technologies being applied in the 90's.  Still today many processes and advances in technology occur every year.  Advances in galvanizing, weaving and even packaging allow GBW chain link to come to market in new and advanced ways ever year. With the abilities today to run chain link fence in heights to 20′ and mesh sizes as small as 3/8″, Southwestern Wire will continue to lead the way in GBW chain link fence manufacturing in the United States.
Salt Spraying Testing
Salt spraying testing on chain link fence fabric run from Class 3 (.80 oz) galvanized wire strand and from 1.2 oz galvanized wire strand has shown that GBW chain link fence fabric will out last it's dinosaur competitor in forgiveness to red rust over extended periods of time.  With smooth uniform galvanized coatings, Galvanized Before Weave chain link fence has proven to be a superior protective coating to the GAW processes.  In the graph here, you will find independent results of a salt spray test on both GBW and GAW, see the results for your own eyes.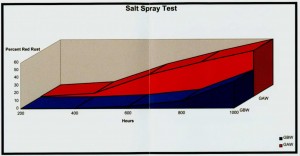 In the field for the installation process, GBW chain link fence provides icicle free galvanized coatings which make for easier installation. For this reason it has proven to be a better coating for residential work, day cares, schools, ball fields and most any commercial or industrial application.  The time needed to "dress out" the fence line has been reduced by using GBW.  Galvanized before weave material is free from frozen joints and icicles which tend to seize the material. Thus any time savings in the field equates to less labor cost and more competitive bid opportunities.  The use of GBW also has improved the satisfaction of the employees in the field as the material is much more friendly to work with.  No more cut hands or arms and no more cut work clothing or uniforms.
Truly A Protective Coating
In addition, Southwestern Wire's protective top coating gives the finished chain link fence fabric a luster and an extended shelf-life never before seen by a GBW fence product. This coating has allowed many additional wholesalers the opportunity to expand their product offering by having GBW chain link fence in their stock of goods.  This process also assists the installation contractor as the shelf-life allows the contractor to get the material installed before additional graying of the material takes place.  No call backs means more profits for all parties.
Protective coating is called protective for a reason. They brave various calamities and disasters and help keep the part of a property where they have been used as a shield safe from damages and erosion.
If you are seeking superior corrosion resistance, superior self-life and superior ease of installation then Southwestern Wire's (GBW) Galvanized Before Weave Chain Link Fence Fabric is the fence for your application and the fence for you crews to use.
To find our more about our GBW Fabric or to locate a dealer near you please contact us!
Find our specification sheet here on zinc coated chain link fence to meet ASTM A 392 Class 1 or Class 2.